Unlike the majority of cryptocurrencies—including and —whose valuation is determined by a combination of factors based on supply and demand, competition, regulatory issues and investor trust in an alt-coin's internal governance, stablecoins deliver an alternative proposition. They're designated as stable because these digital currencies are pegged to less volatile, often more established assets including fiat currencies such as the .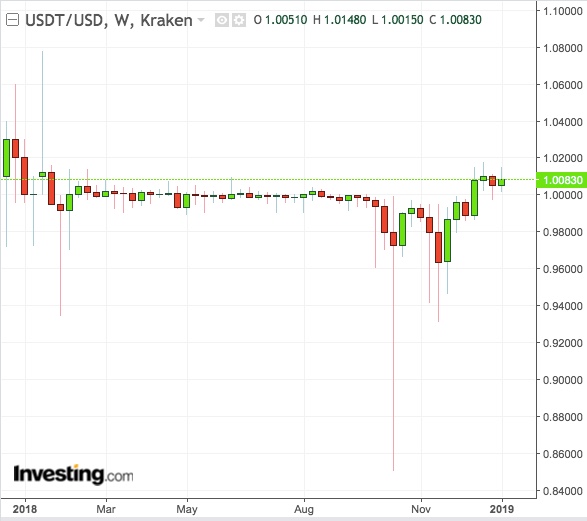 Tether Weekly Chart
The best known stablecoin right now is , which has a 1:1 peg to the USD and is the eighth most popular cryptocurrency based on its $1.92 billion market cap. That position could change in 2019 however, as new stablecoins are launched, providing competition for Tether which has been dogged by , leading to sometimes severe price fluctuations—something that shouldn't be a factor in stablecoin trade.
According to CryptoPotato, in October 2018, Tether dominated the stablecoin market, capturing a 96% share of stablecoin investments. As of December that's decreased to 73%. Alternative stablecoins such as (TUSD) and (PAX) were launched in 2018, but expect yet more new launches in 2019.
Notable recent developments in the stablecoin universe include a release earlier this week from Japan's Mizuho Bank, touting its intention to launch its own stablecoin in March, to be pegged to the . Big four auditor PricewaterhouseCoopers (PwC) has teamed up with decentralized lending platform Cred. They intend to peg their new cryptocurrency to the US dollar.
Japan-based crypto exchange Binance, which allows users to trade crypto pairs, has announced it is adding three stable pairs including PAX/TUSD. In the US, on January 2, the Texas Department of Banking released a statement, indicating that any sovereign-backed stablecoin may be considered money or of monetary value under the state's Money Services Act.
Positive Step For The Crypto Space
Stablecoins have the potential to define 2019 for the cryptocurrency community says Nick Cowan, managing director and founder of the Gibraltar Stock Exchange, especially as adoption has shown clear growth.
"The implication of connecting real-world assets, such as the dollar or , to blockchain creates market liquidity for traders around the world. As such, stablecoins make the process of joining and obtaining cryptocurrency easier for newcomers, as they can think in the familiar terms of dollars or euros, instead of capricious bitcoin values. It is yet another positive step towards the institutionalization of the space, bridging the gap between traditional finance and the new crypto space."
Guy Hirsch, managing director of eToro US, considers stablecoins to be "experiments." He points out that there are multiple use cases for stablecoins; fiat currencies, commodities, securities. As well, he notes, there are multiple pegging mechanisms still being tested. He believes that in 2019 we should expect to see more of these tests and on a larger and broader scale.
"Stablecoins are popular because they can mitigate volatility while using blockchain rails to facilitate transactions. Without blockchain, these transactions would have taken a lot more time and money, would have less flexibility when it comes to portability, and would not be programmable to make them smarter."
Hirsch identifies two main reasons for mass adoption: ease of access and conversion for all the participants in the transaction, and ecosystem support. In the world of payments, cash and credit cards have a near-universal ecosystem to support transactions, but stablecoins are still a long way from anything similar. Though Hirsch thinks there probably are theoretical ways to decentralize a stablecoin, centralized backing provides a better chance of maturing stablecoin assets, he says, thereby providing wider adoption. In his view this will occur over a 3-5 year time horizon.
Expaning Universe Of Stablecoins
The universe of stablecoins is definitely expanding, says Rich Rosenblum, co-founder and head of markets at GSR.
"There are currently five actively traded stablecoins in the market, but over 100 more are expected to come to market this year. I'm not sure that I would call it a comeback: Due to the stable nature of their price action, they have clearly held their market value better than any other subset of digital assets."
There are a variety of catalysts driving the popularity of stablecoins, he explains. Most obvious is that cryptocurrencies have been extremely volatile. If an investor wants to diversify into cryptocurrencies, it's helpful to have the option to hedge into a less volatile digital asset without having to go all the way back to fiat currency.
Obviously, given their more centralized backing, stablecoins could be considered the antithesis of the original digital currency idea—decentralization. Still, in their current state, some might view them as crypto hybrids. Says Rosenblum:
"So far, most of the active stablecoins are centrally banked, just like sovereign currencies. However, they can still trade on decentralized platforms and be useful in the proliferation of an industry that supports decentralization. Additionally, there are some decentralized stablecoins being produced."
Once the Bitcoin equivalent of a stablecoin is created, notes Rosenblum, it will have a good shot at unseating the current digital currency leaders.